Technology
Realme Buds T100 launched with massive 28-hour playback time
Realme launched its latest TWS buds.
They will offer a whopping 28-hour playback time.
It will have three different EQ presets in the Realme Link app.
Realme had an event during which a new inexpensive smartphone was unveiled. It was complemented by the Realme Buds T100, the company's most recent audio wearables.
The TWS earphones provide an elegant and ergonomic design, as well as an abundance of sound and battery life. They are also affordably priced, making them worthy of consideration.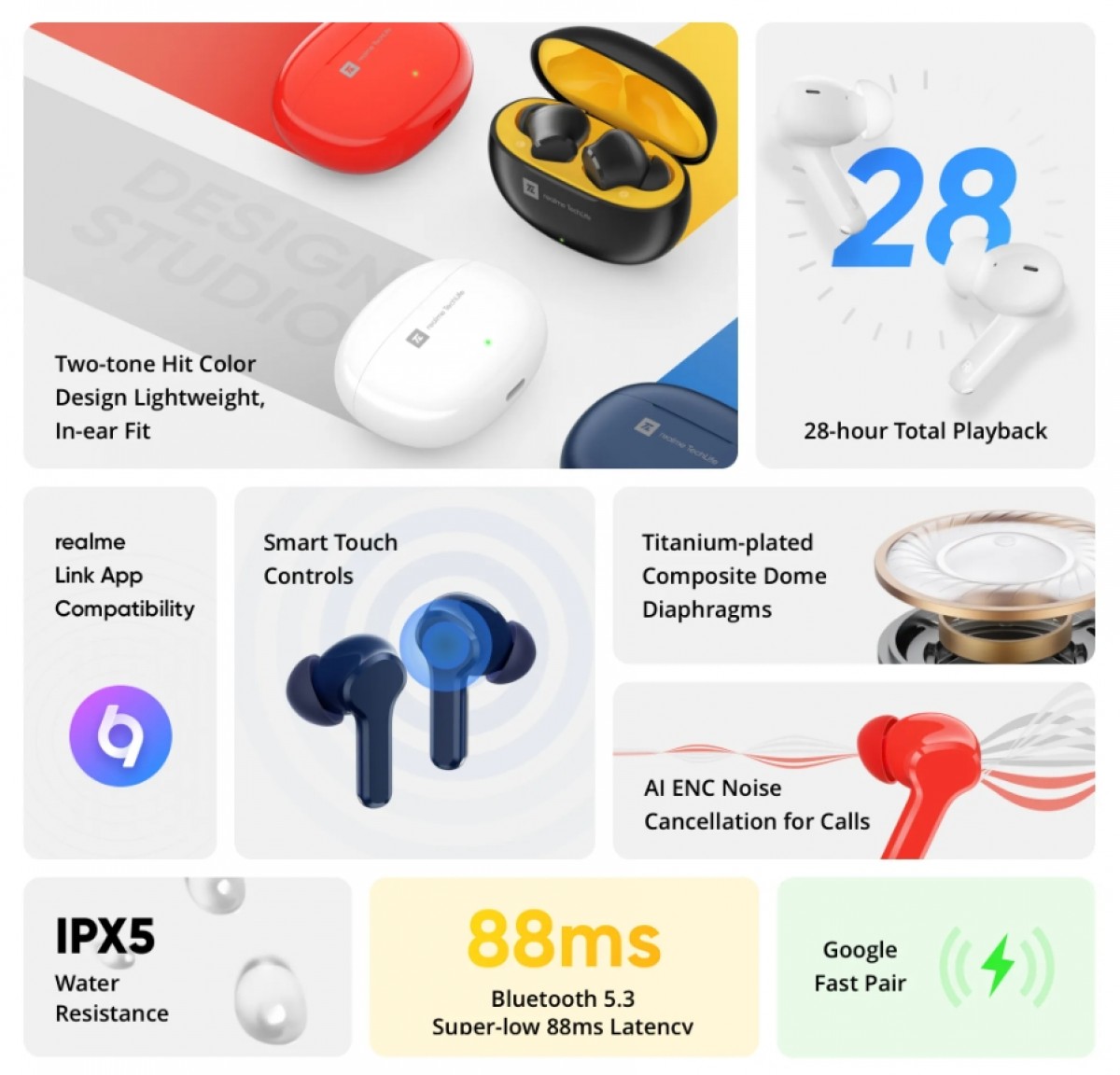 Officials claim that the Realme Buds T100's 10 mm dynamic bass driver will make the sound more "stable and stunning." It has a PEEK+TPU Composite Diaphragm for deeper bass, but there are three different EQ presets in the Realme Link app for better music in the ears: Bright for a clearer voice, Balanced, and Bass Boost+ with a greater ambience.
A long squeeze on both buds activates Gaming Mode, which reduces latency to 88 milliseconds for a "buttery-smooth audio gaming experience." The communication is stable due to Bluetooth 5.3, which features speedy and stable pairing in addition to anti-jamming capabilities and reduced power consumption.
Both earbuds contain a microphone for sound pickup, however, only the T100 has AI ENC noise cancellation. This is a feature that learns about background noise and isolates it to make phone calls more audible. Additionally, there is a "Volume Enhancer" that boosts the volume from 97 dB to 102 dB, which sounds fantastic but might negatively impact the overall audio performance.
Realme said that each bud has a six-hour battery life, with both buds and the case delivering a total of twenty-eight hours of playback. The company did not disclose the battery capacity, but company insiders informed us that it is 40 mAh. Black (with Yellow inside) and White are the initial two colour selections. Jazz Blue and Rock Red will appear subsequently.
The initial price of the Reame Buds T100 is set to $18 (~PKR 3900).
Also Read
Realme to Launch Realme Watch 2, Watch 2 Pro, Buds Wireless 2 and other products on July 23
After several leaks, Realme has confirmed the launch of Watch 2, the…
Car Accident Lawyer – Antonio Auto Accident Lawyer